Albert Robida was an accomplished French illustrator and writer from the late 1800s. His illustrations about technology in the 20th century were both whimsical and evocative.
I decided to make a 1/35 scale flying vehicle inspired by some of his artwork. The original inspiration isn't his – it dates from 1828 and depicts Mr. Charles Golightly flying on his steam powered rocket: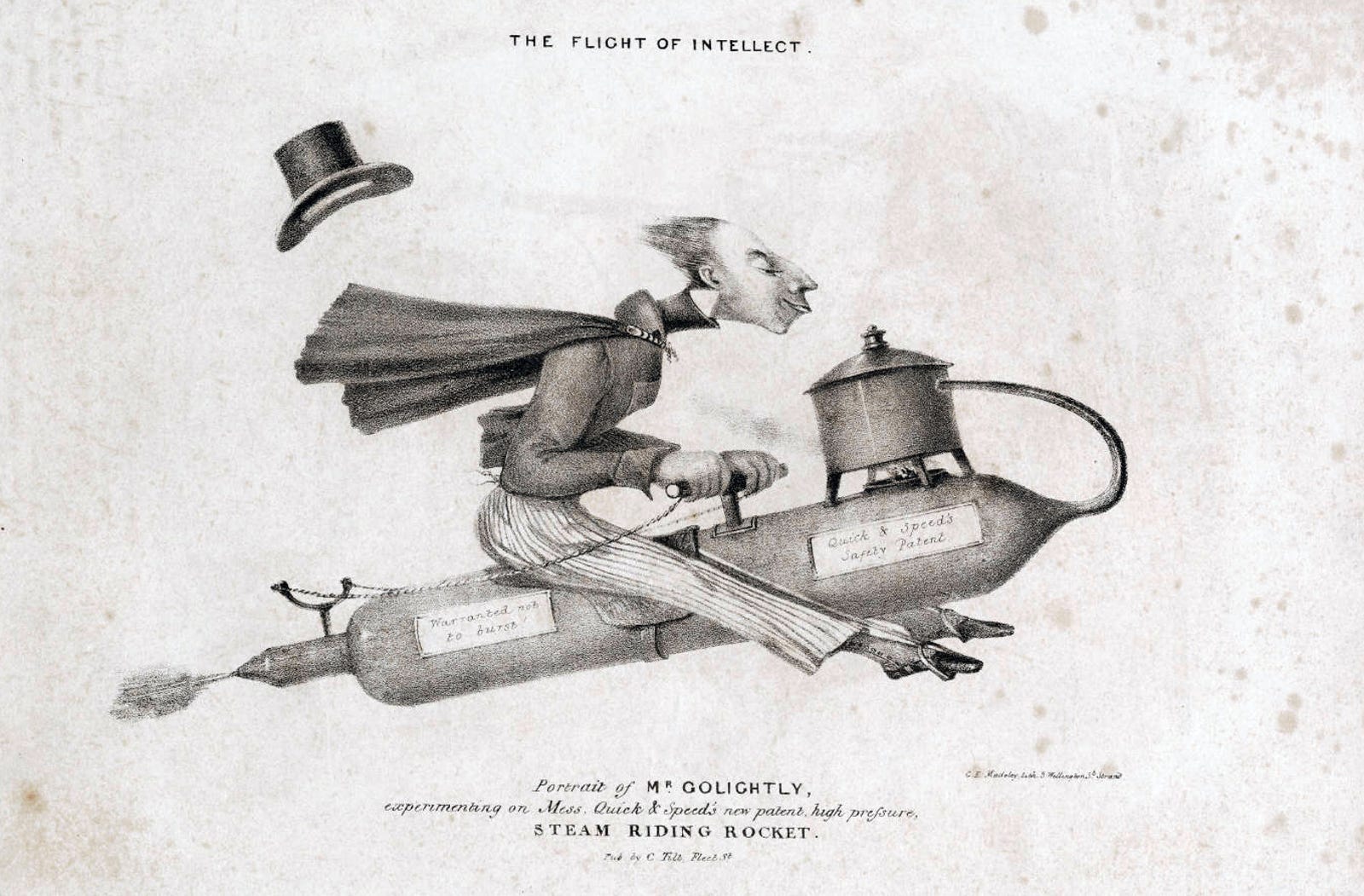 Albert Robida drew and wrote about his views on life in the year 2000 as well as war in the 20th century. I'm using the drawings below as inspiration:
Build details
I raided my spare parts bin to build the flyer. The components used:
A Mac 1/72 V-1 fuselage provided the main body.
The tail fin is from either an Aurora or Polar Lights re-pop of the Seaview (it came in a box of parts).
Unknown bits from an MPC Star Wars Speeder Bike and MPC Star Wars Snowspeeder.
The wheels are from a 1/72 Sd.Kfz. 251
The muffler from a Tamiya 1/35 M3 tank
The seat is part of a ski from a Trumpeter Gaz-98 Aerosan
The engine cowl is from a Mikromir plane kit that I couldn't finish successfully.
Various Styrene sheets and rods.
Mr. James Jameson borrowed from my Gentleman Jim Jameson build.
The first variation of the wings used tape to simulate the ribs. This didn't work out, so I remade the wings and scored the ribs with a pen. The steering wheel and the wing angle adjusters are wheels from a 1/72 Sd.Kfz. 251. For the steering wheel, I just opened up the spaces between the supports. The handle/knobs are just styrene rods with putty on the ends.
The last image, with Jim Jameson and his horse, was inspired by this cartoon (unknown source, but I first saw it in "Art of Electronics")
The original build thread appeared on Beyond the Sprues.
Updated August 5, 2020